fanatic
Posts: 2,601
Update: Coming New Madrid Earthquake Connected With Comet ISON! And FEMA Is Prepping! Stunning Evidence Shows It Is Waking Up (Video)Wednesday, October 23, 2013 14:24% of readers think this story is Fact. Add your two cents.
0
(Before It's News)
=18pxYou are sitting on the couch checking your email, and your kids are finishing up their dinner. It's a quiet, perfectly normal evening, or so it seems. But then suddenly things start shaking, and the shaking grows more and more intense. You see everything toppling over, your children are screaming, the plates are breaking, and it all happens in a matter of moments. What will you do?=18pxMore and more news and prophecies concerning the New Madrid Fault have been coming out in the past two years. The thing of it is, we are well overdue for a major, catastrophic earthquake from the New Madrid.=18pxEveryone at this point is aware that we are expecting comet ISON beginning November 15 and thru December, in which it will be 'very' visible, including ice particles and light shows. Take a look at this coincidence that happened the 'last time' the New Madrid rocked the USA:
=18pxTecumseh's Comet and the Battle of Tippecanoe 
The earthquakes were preceded by the appearance of a great comet, which was visible around the globe for seventeen months, and was at its brightest during the earthquakes. The comet, with an orbit of 3,065 years, was last seen during the time of Ramses II in Egypt. In 1811-1812, it was called "Tecumseh's Comet" (or "Napoleon's Comet" in Europe). Tecumseh was a Shawnee Indian leader whose name meant "Shooting Star" or "He who walks across the sky." He was given this name at birth. A great orator and military leader, Tecumseh organized a confederation of Indian tribes to oppose the takeover of three million acres of Indian lands, which were obtained by the Treaty of Fort Wayne in 1809. His brother, a religious leader called "The Prophet," had gained fame when he foretold the total eclipse of the sun on June 16, 1806. (They had learned about it in advance from a team of visiting astronomers.)
=18pxEarthquake Phenomena
=18px
The New Madrid Official Website states
:
=18pxThe New Madrid earthquakes were the biggest earthquakes in American history. They occurred in the central Mississippi Valley, but were felt as far away as New York City, Boston, Montreal, and Washington D.C. President James Madison and his wife Dolly felt them in the White House. Church bells rang in Boston. From December 16, 1811 through March of 1812 there were over 2,000 earthquakes in the central Midwest, and between 6,000-10,000 earthquakes in the Bootheel of Missouri where New Madrid is located near the junction of the Ohio and Mississippi Rivers.=18pxIn the known history of the world, no other earthquakes have lasted so long or produced so much evidence of damage as the New Madrid earthquakes. Three of the earthquakes are on the list of America's top earthquakes: the first one on December 16, 1811, a magnitude of 8.1 on the Richter scale; the second on January 23, 1812, at 7.8; and the third on February 7, 1812, at as much as 8.8 magnitude.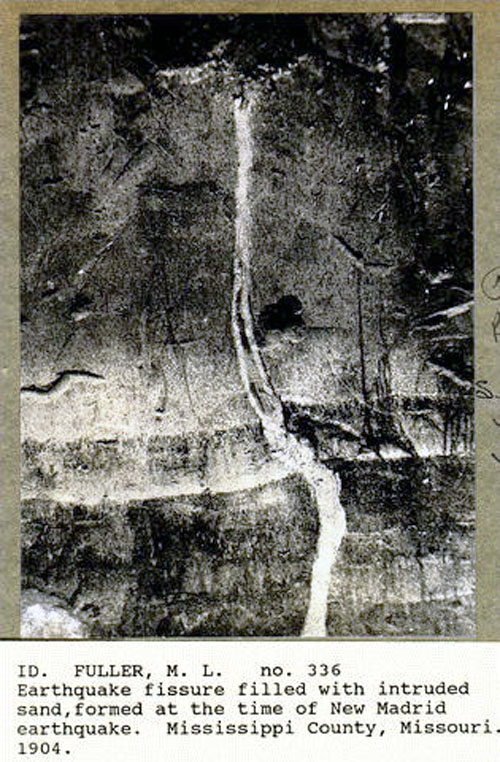 Some of the phenomena that happened were as follows:Sand Boils 
The world's largest sand boil was created by the New Madrid earthquake. It is 1.4 miles long and 136 acres in extent, located in the Bootheel of Missouri, about eight miles west of Hayti, Missouri. Locals call it "The Beach." Other, much smaller, sand boils are found throughout the area. Seismic Tar Balls 
Small pellets up to golf ball sized tar balls are found in sand boils and fissures. They are petroleum that has been solidified, or "petroliferous nodules."Earthquake Lights 
Lights flashed from the ground, caused by quartz crystals being squeezed. The phenomena is called "seismoluminescence."Warm Water 
Water thrown up by an earthquake was lukewarm. It is speculated that the shaking caused the water to heat up and/or quartz light heated the water.Earthquake Smog 
The skies turned dark during the earthquakes, so dark that lighted lamps didn't help. The air smelled bad, and it was hard to breathe. It is speculated that it was smog containing dust particles caused by the eruption of warm water into cold air.Loud Thunder 
Sounds of distant thunder and loud explosions accompanied the earthquakes.Animal Warnings 
People reported strange behavior by animals before the earthquakes. They were nervous and excited. Domestic animals became wild, and wild animals became tame. Snakes came out of the ground from hibernation. Flocks of ducks and geese landed near people.
The New Madrid Fault & Comet ISON
New Madrid Prophecies
Breaking! Illuminati FEMA Preps for HAARP Earthquake on New Madrid Fault Hosea 4 1 3 Prophecy FM
Shane Warren Urgent message Hyperinflation and New Madrid Earthquake Vision
Mega Earthquake 10.0. Will it ever happen?
The MEGA New Madrid Earthquake is Coming Soon
 =18pxDo you know Yeshua as Lord and Savior of your life? He'll forgive you of anything and everything you've done if you 'sincerely' ask. Repent today and tell Him you want to serve Him, and Him alone. John 3:16